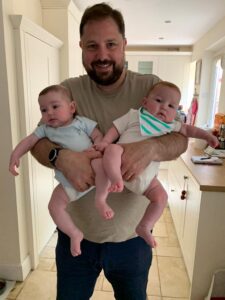 Steve Redston BA (Hons) MA is our Managing Director and Practice Manager. He has many years experience working at a senior level within the SME market.
Previous roles that Steve has held include a membership manager for one of the largest cycling organisations in the UK, part of the team looking after Mazda Motors UK customer service, General Manager for one of the largest waste management brokers in the UK and was part of the team who ran the national graduate recruitment exhibitions.
Steve is Martin's nephew and was bought on board in 2014 with a brief to modernise and grow the company, securing its long term future. Steve took over from Martin as Managing Director in April 2021 and takes full responsibility for controlling the direction and daily operations of the company.
Steve is married and has twin boys who were born in March 2022. Whilst they take up almost all of his spare time he also enjoys socialising with friends, visiting the theatre and in his spare time Steve enjoys playing the Saxophone and Clarinet. He has performed with bands and orchestras at several of the country's leading venues including the Royal Albert Hall, Manchester Evening News Arena and South Bank Centre.